Spider-Man Black & Gold Suit Figures Go Close Up On Dr. Strange Tweaks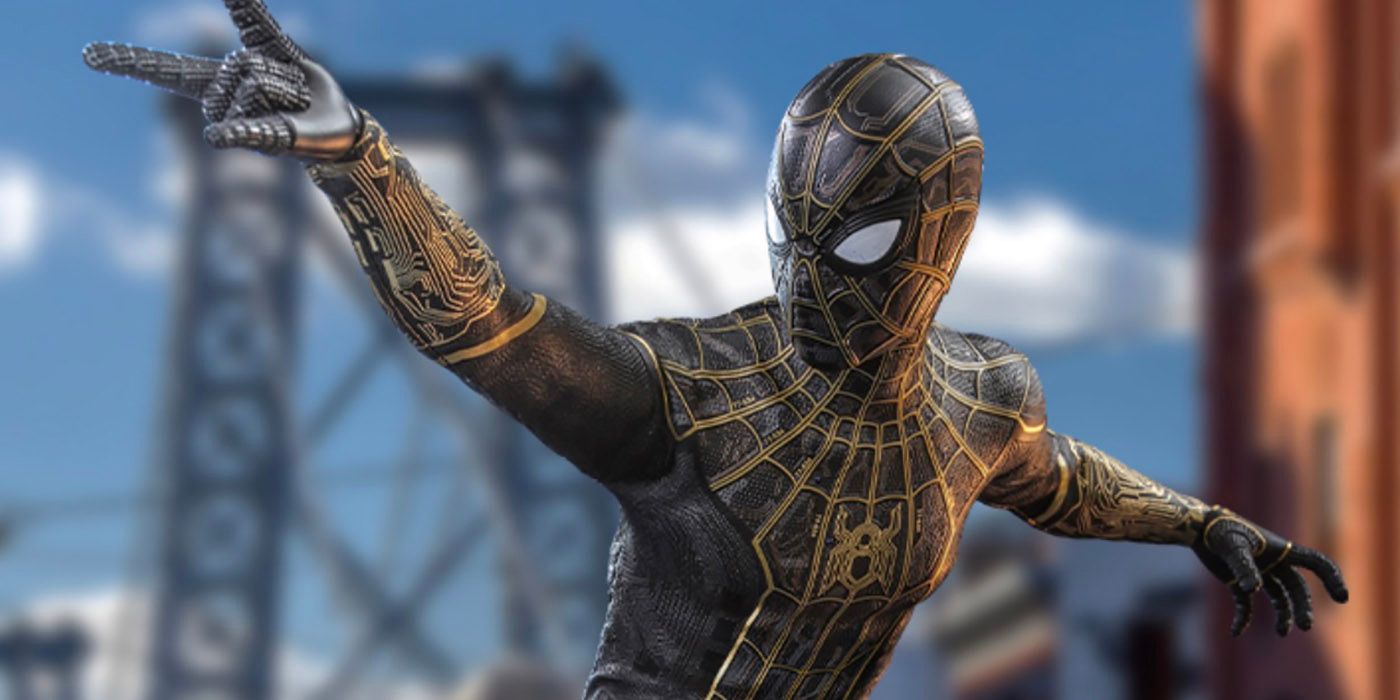 Hot Toys unveils new Spider-Man: No Way Home figures designed after Spider-Man's black and gold suit giving a closer look at Doctor Strange's tweaks. The latest installment in the Marvel Cinematic Universe franchise will see Tom Holland's titular webslinger team up with Benedict Cumberbatch's Sorcerer Supreme for help in clearing the world's memory of his secret identity as Peter Parker following Mysterio's bombshell reveal in the mid-credits of Spider-Man: Far From Home. Their efforts will inadvertently backfire and open the doors to the multiverse, resulting in villains from other Parker realities arriving and requiring them to send the villains back before it's too late.
Alongside Holland and Cumberbatch, Spider-Man: No Way Home features the returns of Zendaya, Jacob Batalon, Jon Favreau, Marisa Tomei, J.B. Smoove and Benedict Wong. The film will also see the MCU arrivals of Alfred Molina's Doctor Octopus, Willem Dafoe's Green Goblin and Thomas Haden Church's Sandman from the Sam Raimi Spider-Man trilogy and Jamie Foxx's Electro and Rhys Ifans' Lizard from Marc Webb's The Amazing Spider-Man series to face off against Holland and Cumberbatch. With the doors of the multiverse open in Spider-Man: No Way Home, Holland's young webslinger will have to utilize more than his normal abilities to save the world and now a better look at how he'll do so has arrived.
Related: No Way Home's Villain Explanation Supports Mysterio Return Theories
With just a month to go until the film's arrival, Hot Toys has revealed new additions to their Spider-Man: No Way Home figure collection. The new figures, which are expected to ship between January-March 2022 and are available to pre-order for $270, are designed after Spider-Man's black and gold suit in the MCU threequel and offers a closer look at Doctor Strange's mystical tweaks to the webslinger's outfit. Check out the figures' features and images below:
The Spider-Man (Black & Gold Suit) 1/6 scale figure features:
Authentic and detailed likeness of Spider-Man wearing the Black & Gold Suit in Spider-Man: No Way Home
One hand-painted head sculpt with authentic likeness of Tom Holland as Peter Parker
One interchangeable masked head sculpt with five pairs of interchangeable eye-pieces to create numerous expressions
1/6 scale body with 30 points of articulation
10 interchangeable hands
One finely tailored Spider-Man suit
One pair of boots
One gauntlet (wearable on left arm)
One mystic spider-web effect (attachable to the gauntlet)
One mystic arts effect, attachable to chest (magnetic function)
One separate Spider-Man mask (not wearable on figure)
6 webs in different shapes and lengths (attachable to web-shooters)
One open spider web effect accessory
One dynamic figure display stand with character nameplate and the movie logo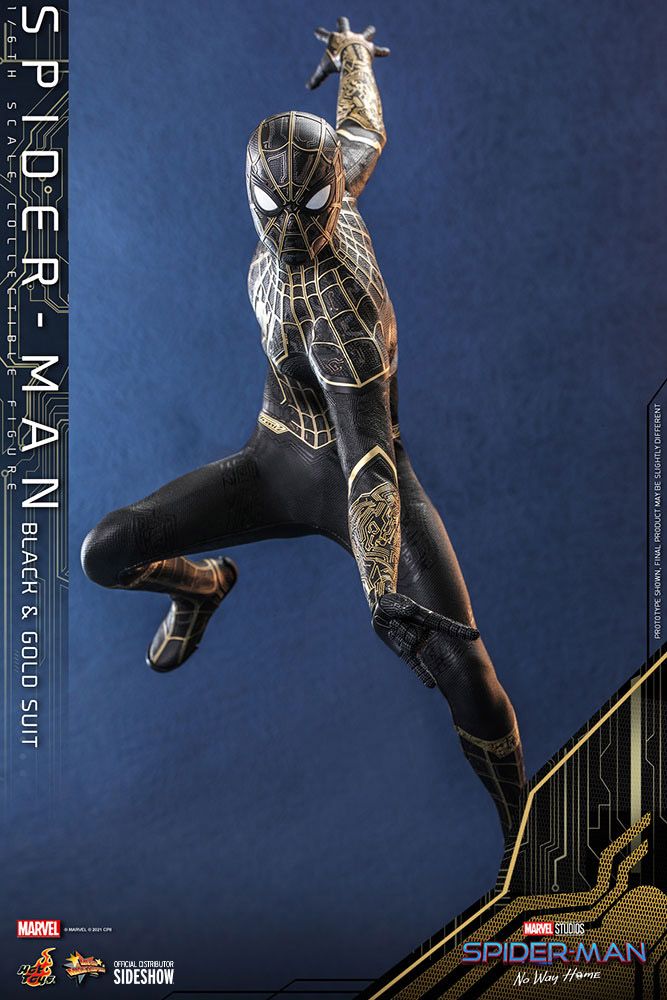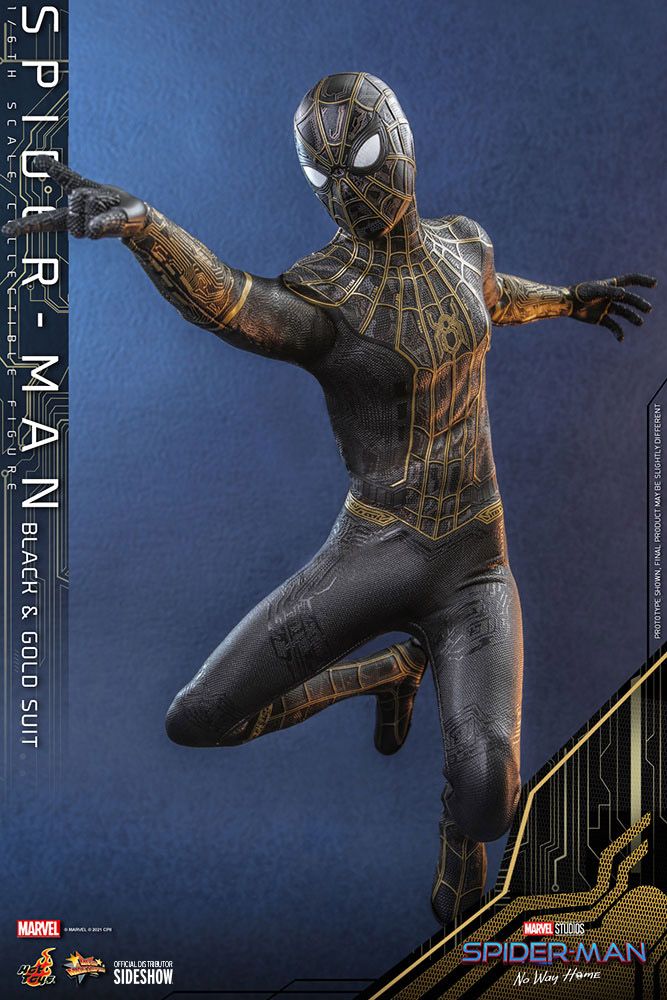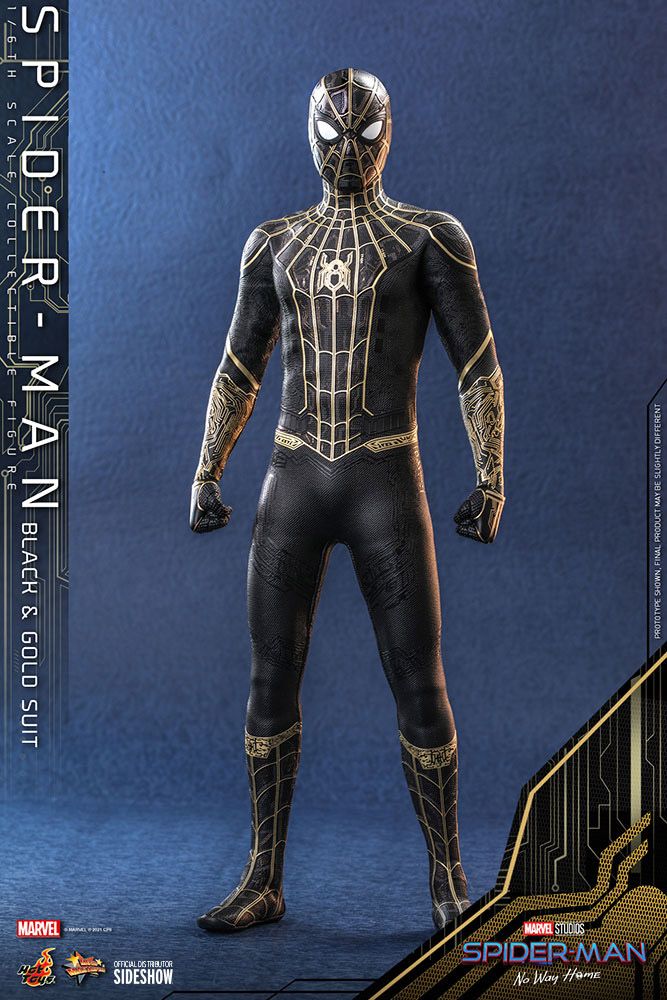 Long before the first trailers arrived for the film, audiences were being treated to their first looks at the new Spider-Man: No Way Home suit with various action figures and began building theories as to what they meant for the story. The one thing that became clear in these figures was that Spider-Man's black and gold suit would imbue the webslinger with the magical powers of Doctor Strange. The latest Spider-Man: No Way Home trailer did give a brief look at this being put to use as the hero displayed the red power rings around one of his arms in a battle against Foxx's Electro.
The new Hot Toys Spider-Man: No Way Home figure gives a great new look at the tweaks Doctor Strange has made for the black and gold suit, namely around his webshooter wrists, which look to be imbued with further technology than before for the magical abilities. With recent footage of the film indicating Parker being tasked by the Sorcerer Supreme with sending the various villains back to their universes before the fabric of time and reality falls apart, the use of magic is certainly key to bringing them down. Only time will tell how the suit comes into play in the film when Spider-Man: No Way Home hits theaters on December 21.