Star Ocean: The Divine Force Environment Video Shows Giant Sci-Fi City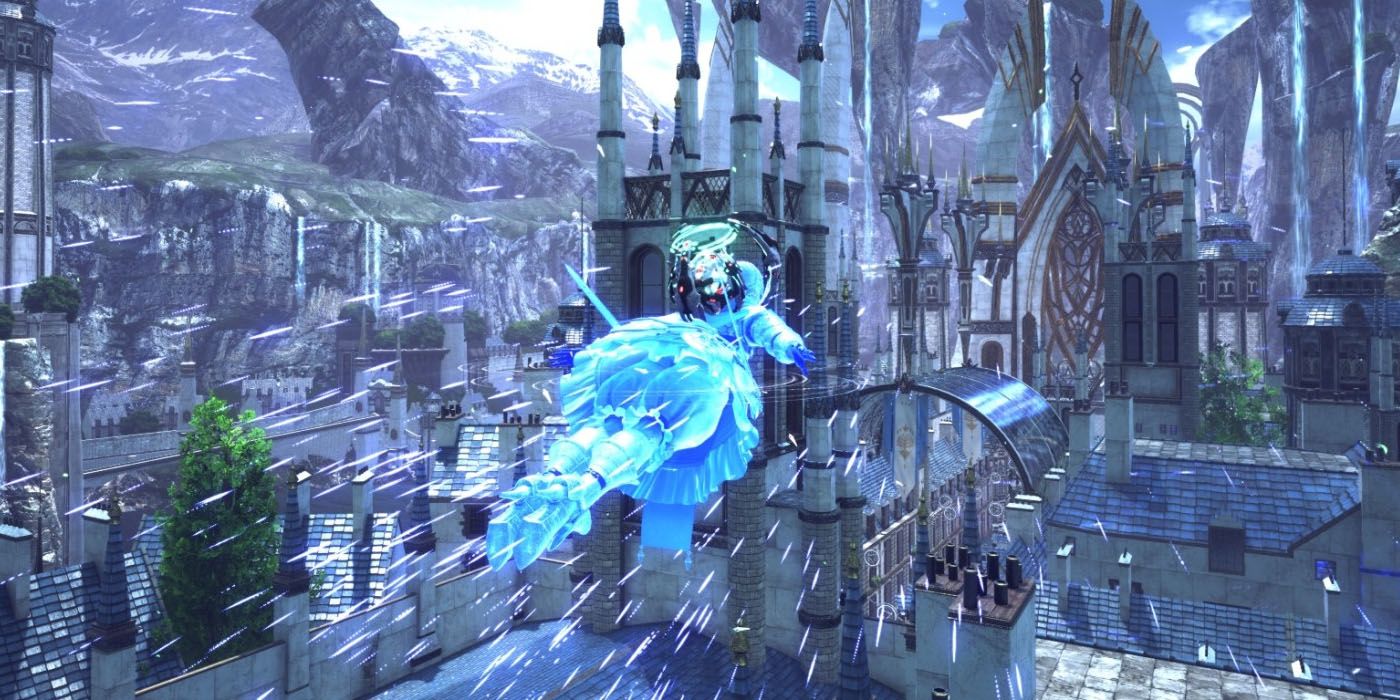 A new Star Ocean: The Divine Force clip shows off a few of the upcoming game's many detailed environments, including a massive futuristic city. Square Enix and developer Tri-Ace revealed a new installment of the long-running sci-fi JRPG franchise with an action-packed Star Ocean: The Divine Force trailer during the October PlayStation Showcase livestream last week.
Not much is known yet about Star Ocean: The Divine Force's plot, but last week's trailer depicts the crew of a ship named "the Ydas" as they are stranded on the planet Aster IV and get caught up in an ongoing war between two native kingdoms. As usual with the Star Ocean franchise, The Divine Force will be centered around two primary heroes: Raymond, a starship captain who wields a giant sword into battle, and Laeticia, a "princess knight" looking to defend the medieval Kingdom of Aucerius from the invading Vey'l Empire. Square Enix has promised that Star Ocean: The Divine Force will have the "fastest and strongest action" of any Star Ocean title, and players will be able to move freely in a three-dimensional environment. This is somewhat similar to the recently released Tales of Arise, which has been reviewed favorably.
Related: Trails, The Longest-Running JRPG Story, Is Only Halfway Done
Yesterday, a new Star Ocean: The Divine Force video was posted on the official Star Ocean Twitter account, showing off many of the environments that players will explore when the game is released next year. These include the usual lush green meadows and barren desert wastelands, but the most prominent location shown is a massive futuristic city. In keeping with the Star Ocean series' blend of traditional swords-and-sorcery with sci-fi, this city features floating cars and neon lights alongside elegant Renaissance-style architecture and ancient-looking statues.
While not quite reaching the commercial and critical success of Square Enix's Final Fantasy series, Star Ocean is well-regarded by fans for its unique blend of medieval high-fantasy and space-faring sci-fi, as well as being one of the first to bring real-time combat into the JRPG genre. However, the last main entry, 2016's Star Ocean: Integrity and Faithlessness, received a mixed response from players due to its weak narrative and lack of cutscenes. Likewise, the subsequent free-to-play spin-off Star Ocean: Anamnesis was panned for relying too heavily on microtransactions - a practice that has grown distressingly common in modern games like Marvel's Avengers.
So far, Star Ocean: The Divine Force looks like it could bring the series back from these poorly-received titles and the roughly five years of dormancy the series has undergone since. The Divine Force will be the first Star Ocean game to be released on modern consoles like the PlayStation 5 and Xbox Series X, and this is readily apparent in seeing the game's eye-catching green landscapes and elaborate cities. Players will get their chance to explore these areas in full once Star Ocean: The Divine Force arrives sometime next year.
Next: What Star Ocean: The Divine Force Could Learn From Tales Of Arise
Source: Star Ocean/Twitter