Vanderpump Rules: Charli 'Shocked' Katie Maloney Shared Her Abortion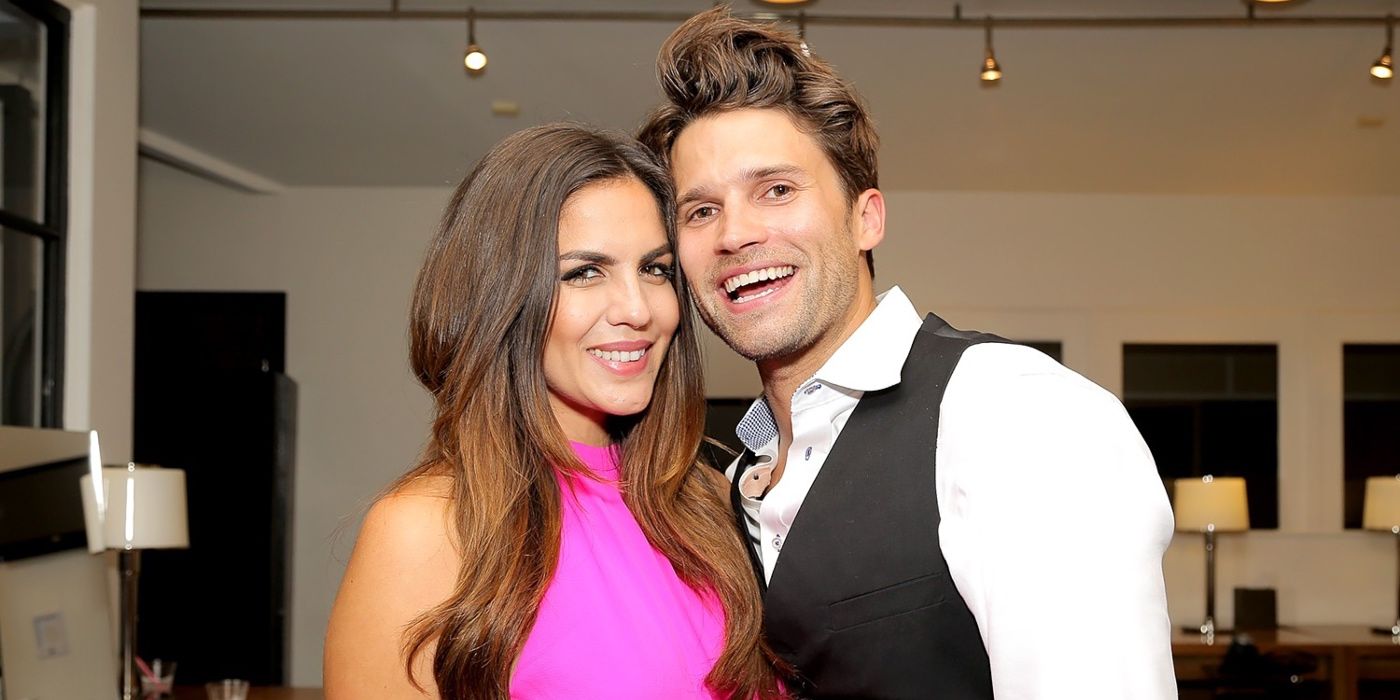 Vanderpump Rules newcomer Charli Burnett was surprised that her co-star Katie Maloney revealed she had an abortion early on in her relationship with Tom Schwartz. The Bravo stars were first introduced by former castmate Kristen Doute over a decade ago. Though it wasn't love at first sight, the couple ended up clicking upon hearing a bit of each other's backstories. Tom and Katie ended up tying the knot in front of Bravo's cameras in August 2016, but it hasn't been easy sailing since then. Fans of the show have watched the couple struggle over cheating allegations, name calling and fertility issues.
Reality star Katie sat on the sidelines over the last year as the majority of her castmates had babies of their own. In an effort to get pregnant, the couple have been documenting their fertility journey with doctors during this season of the hit Bravo series. In a recent episode, Katie revealed that despite their obstacles while trying to conceive, they actually did get pregnancy several years ago. Tom and Katie both agreed that they made the best decision for their lives at the time, admitting they were uncertain about their future together. Katie added that they had only been dating for a year and they weren't on the best of terms when they learned she was pregnant, and she was terrified she'd end up being a single mom.
Related: Vanderpump Rules: James Kennedy Supports Lisa Vanderpump's Return to RHOBH
In a new interview with Buzz, Charli admitted she was "shocked" when she heard Katie talking about her abortion publicly, especially because the majority of the cast didn't even know that information privately. "I was actually really shocked," Charli said. "I watched it at the same time everyone else did and I was like, 'Wow, that was something that I wasn't expecting Katie to share with everyone.' I didn't even know about that." The reality star added that she commends Katie's bravery because the subject matter is still controversial in the public's eye. That said, Charli hopes her co-star helps a lot of young women who are going through a similar situation. "I feel like it's this weird thing that we all know happens but everyone's ashamed to talk about for some reason, so her opening that door was really, really amazing."
On that note, Charli also weighed in on her thoughts surrounding Scheana Shay's controversial relationship with her fiancé, Brock Davies, after he publicly admitted he hasn't seen his children from his previous relationship in over four years. As the episode continued, new information was revealed including a domestic violence claim and a restraining order. "There's a lot obviously to that story," Charli said. "It's Brock's story to share, and it kind of came out in a way that it didn't highlight Brock's best attributes. And as it's coming out more and more and more, we're kind of all like, 'Oh no! Is this a red flag for Scheana?'" But at the end of the day, Charli noted that she's very close to the couple and thinks Brock is actually a good fit for the reality star. Additionally, Charli just thinks Brock went wrong when he thought he could open up and vent to Lala Kent off camera.
While Lala is known to keep things real on Vanderpump Rules, Charli is proving that she can keep up tit for tat with the reality star. Throughout the interview, Charli was honest about her journey of overcoming an eating disorder, her relationship with Lala after their blowout fight and her opinions on Lala's alleged split from her fiancé. Nonetheless, the new reality star teased that fans will be learning a lot more about her background and story in the coming episodes of Vanderpump Rules.
Vanderpump Rules airs Tuesdays at 9pm on Bravo.
Next: VPR: James Kennedy Gives Update on 'Slow' Wedding Planning With Raquel
Source: Buzz/YouTube