Wonder Girl's Design Inspiration Channels Heroine with Epic Body Paint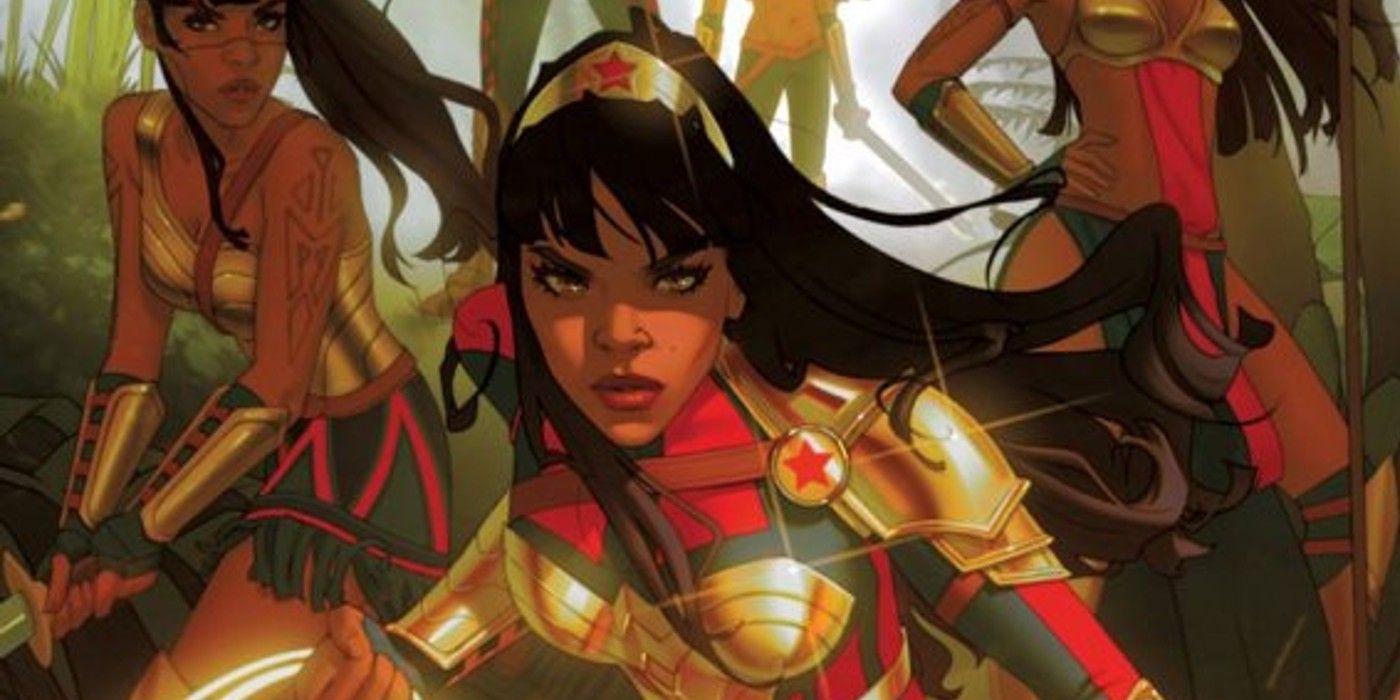 Yara Flor, DC's upcoming Wonder Girl, is a Brazilian Amazon warrior and the latest addition to Wonder Woman's Wonder family. Despite only starting her journey in DC Comics, she has already become rather popular. She's proven to be popular among readers on her home continent of Brazil.
Designed by Joëlle Jones, Yara briefly appeared in Dark Nights: Death Metal #7 before being part of DC's Future State event as the future Wonder Woman of the Justice League. As of late, she has been starring in her own series - Wonder Girl - where she will take up the mantle which has been held by Cassie Sandsmark and Donna Troy. She is from a third tribe of Amazons, whose origins are still being revealed.
Related: An Evil Wonder Woman Army is Attacking The DC Universe
On Instagram, Brazilian actress Suyane Moreira shared a body paint inspired by Yara Flor. This is particularly noticeable since Joëlle Jones confirmed to a fan via Instagram messages shared to Twitter that the actress was amongst her references when drawing Yara. Moreira has been honored by the work done by Jones and DC, sharing her pride with other Instagram posts and through Brazilian publications, such as Quem. She has been so honored and inspired that she has even replicated the character beautifully in this image.
This DC-inspired body paint, which is credited to artist Wanderson Petrova Cavalcante, replicates Yara's primary armor. It captures the golden chest armor, the blue and red suit, and the asymmetrical shoulder armor complete with its strap. It even includes the iconic Wonder Woman star embellishing on this armored piece. The only thing really missing is Yara's tiara. The photograph, credited to photographer Bruno Serafim, also includes the bola that this young heroine has been using within her comics. This artistic rendering that brings Yara to real life is stunning and it brings the creative process full circle. The future Wonder Girl's creative team has found inspiration in the heroine's home country, which has, in turn, embraced her and brought her to life beautifully.
Suyane Moreira's a television actress known for her roles in the 2008 series Ways of the Heart (Caminhos do Coração) and the 2012 series, Gabriela. She is also a former model. She has called Yara an inspiration and many fans agree that DC's future Wonder Woman is an icon worth looking up to. The title of Wonder Woman has belonged most famously to Diana, though it has also been shared with her mother Hippolyta, and also her Amazon sister, Nubia. Like Yara, Nubia has also been stepping into the spotlight of Wonder Woman-related comics, particularly in Future State, though she has currently been reigning as queen of Themyscira in Hippolyta's place. These Amazons are providing even more strength and beauty to the DC universe and it's only a matter of time before even more cosplays and body paints are seen depicting these amazing Wonders. Being a newly debuting hero hasn't stopped Yara Flor, DC's future Wonder Girl, from making a big - and inspirational - impression.
More: Stan Lee Deliberately Created the Worst Version of Wonder Woman
Source: suyane.moreria_, @LuconMarcus, Quem