Wonder Woman 1984 BTS Photo Shows Gal Gadot & Kristen Wiig During Fight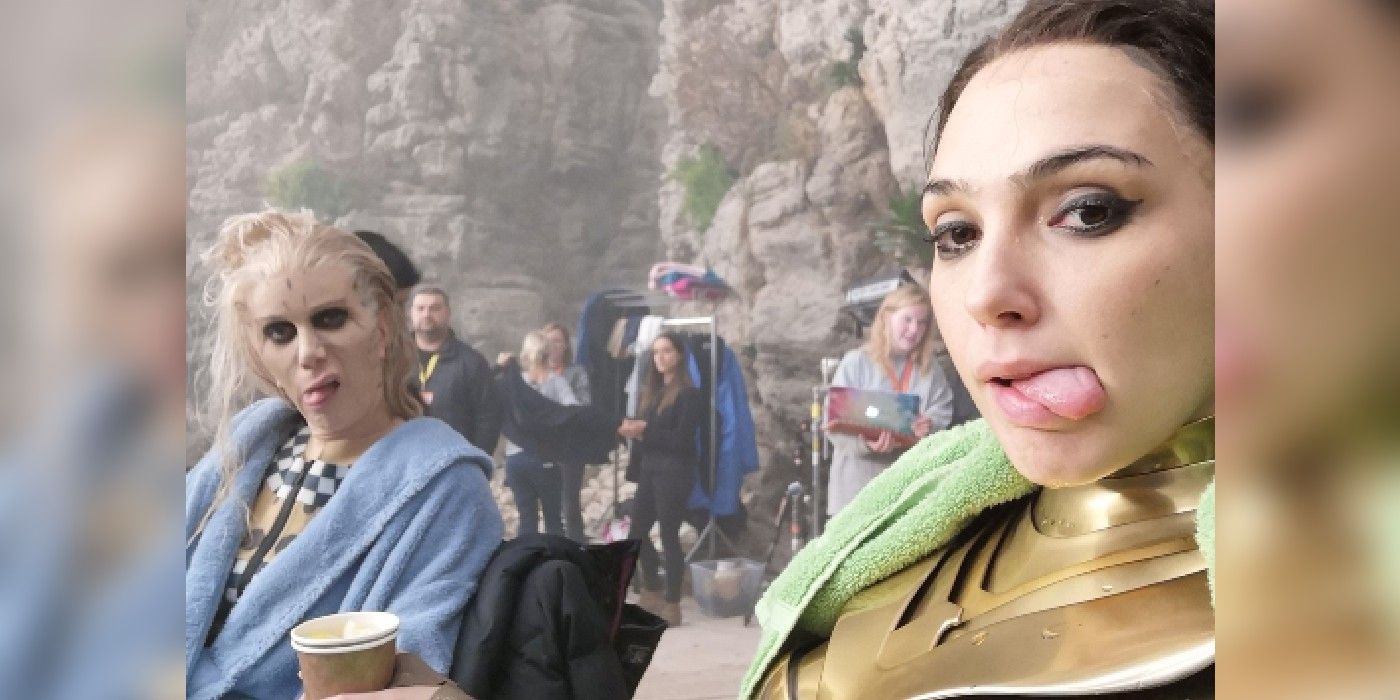 Gal Gadot shared a never-before-seen BTS photo of Wonder Woman 1984 taken while filming a fight scene with Kristen Wiig. Directed by Patty Jenkins, the Wonder Woman sequel was Gadot's fourth outing as Diana Prince, the immortal Amazon princess-warrior and DC superhero. The film was released both in theaters and on HBO Max in December 2020 amid the ongoing COVID-19 pandemic. While it failed to break even at the box office, WW84 was the most-watched straight-to-streaming film of the year.
Set in 1984, WW84 followed Diana working at the Smithsonian Institution while living a double life as Wonder Woman. Wiig plays Barbara Minerva, a shy geologist who is secretly jealous of Diana's beauty and strength. When Barbara realizes that an archeological artifact in the museum is actually the Dreamstone, she uses it to wish to become Diana. The artifact gives her superpowers but she loses her humanity and transforms into the villain Cheetah. Gadot and Wiig had a brutal fight scene towards the end of the movie as Wonder Woman tries to stop Barbara's hunger for ultimate destruction.
Related: Wonder Woman 1984's Box Office Explained: Is It A Failure?
In a new tweet, Gadot reminisced her filming days for Wonder Woman 1984 as she shared a rare behind-the-scenes photo with Wiig. In the picture, the two co-stars are seen sharing a light moment together on the set during a filming break. Gadot is wearing her new Wonder Woman costume that was featured in the movie as the armor of Asteria, the legendary Amazon warrior. Meanwhile, Wiig does a wacky pose while donning her iconic Cheetah makeup. "Just a couple of cool cats taking a break," Gadot wrote in the caption. Check out the BTS photo below:
Click Here to View the Original Post
While WW84 received mixed reviews when it was released, Gadot's and Wiig's performances were widely praised by fans. Gadot's return as Wonder Woman allowed her to display more vulnerability and emotions as she embraced her true powers at the end of the film. Wiig, who is famous for her comedic roles in the past, was a scene-stealer as Barbara/Cheetah. Her inclusion in the film excited many fans who were thrilled to see the DC Comics supervillain make her debut on the big screen.
Gadot and Wiig may have played rivals in WW84, but the actresses clearly formed a friendship behind the cameras. Regardless of what critics had to say about the Wonder Woman sequel, Diana and Barbara's final battle was undoubtedly one of the movie's major highlights in terms of choreography and visual effects. While WW84's ambiguous ending didn't kill off Barbara, it's unclear whether she loses her powers as Cheetah. That said, fans think there's still a chance to see Wiig reprise her role in future DC movies. As Wonder Woman gears up for its third installment, fans can only anticipate how the DCEU intends to depict the superhero's evolution and which villains she will face this time around.
Next: Wonder Woman 1984 Missed The Perfect Chance To Be Like WandaVision
Source: Gal Gadot