Raised By Wolves Season 2 Trailer: Androids Are Becoming Too Human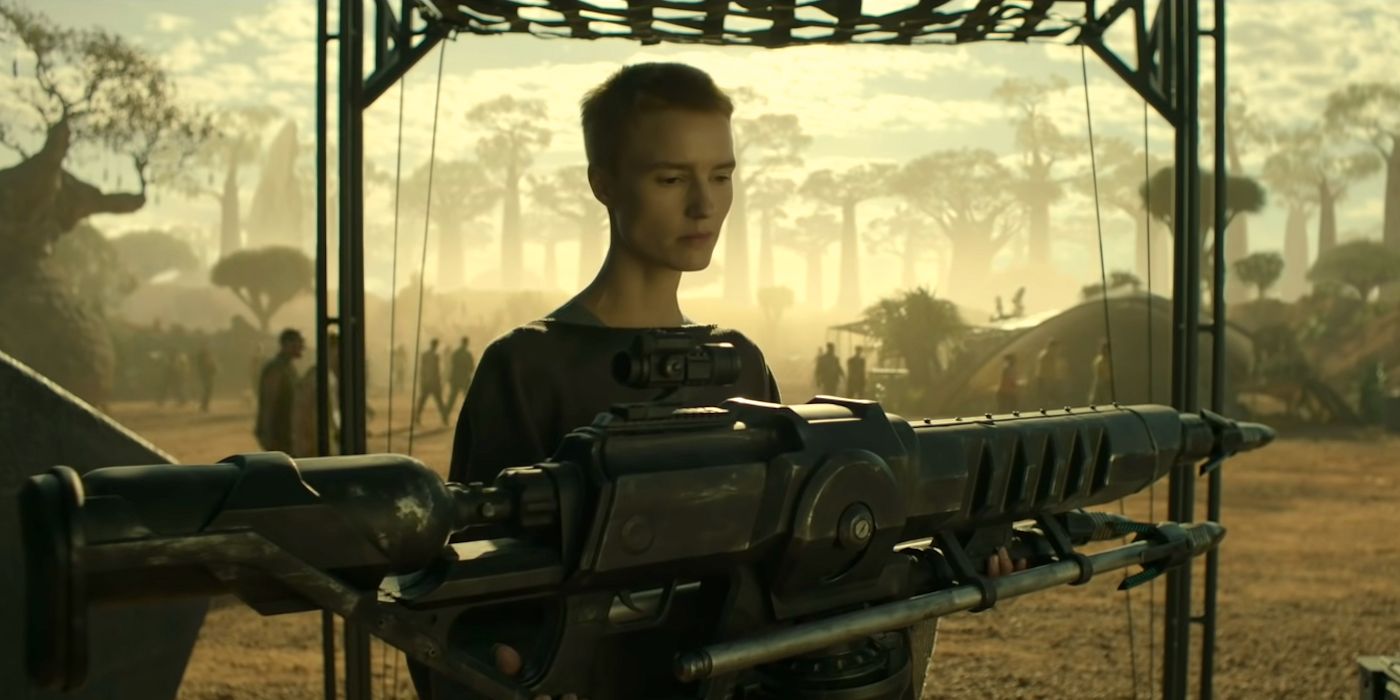 The trailer for Raised by Wolves season 2 shows that androids can become far too human. The series, which originally premiered on HBO Max in September 2020, was executive produced and had two episodes directed by Ridley Scott. It follows Mother and Father, two androids who are tasked with watching over the children of a colony of humans who have escaped to a new planet after the destruction of Earth. The series stars Amanda Collin, Abubakar Salim, Winta McGrath, Niamh Algar, Travis Fimmel, Jordan Loughran, and Felix Jamieson.
Raised by Wolves was renewed for a season 2 on September 17. The 10-episode first season was released weekly in batches of episodes (along with a companion podcast featuring Aaron Guzikowski), so this news came halfway through its original run. This, along with its robust special effects budget, reflects HBO's overall confidence in the program. Production on the new season ran from March to August of this year in South Africa.
Related: Raised By Wolves: Every Power Mother Has Explained
HBO Max has now released a new trailer for Raised by Wolves season 2, which will be streaming on the service on February 3, 2022. The trailer opens on the idea that androids can change but explores some of the dangers of them becoming too human. Their goal might be to bring purity and justice to the planet, but the teaser is also rife with torture, war, and disgusting imagery of mutilated android bodies. Check out the video below:
Click here to view original video
Raised by Wolves season 2 follows Mother and Father after they join a new atheist colony in the tropical zone of the planet Kepler 22 b. Their continued attempts to protect their six children may be thwarted by the emergence of Mother's "natural child," which is posing an imminent threat to the survival of humanity - the snakelike being is unseen in the new trailer, though it is teased by a mythical drawing being created on the shell of an egg. Raised by Wolves season 2 will be adding six new cast members:Peter Christoffersen as Cleaver, Selina Jones as Grandmother, Morgan Santo as Vrille, James Harkness as Tamerlane, Kim Engelbrecht as Decima, and Jennifer Saayeng as Nerva.
Raised by Wolves season 2 is looking to one-up every element of the first season. Things are certainly looking bigger and more intense, though whether it ends up being better will be up to audiences to decide this winter. Although HBO Max hasn't announced the official release schedule of the full season, it's likely that season 2 will emulate the previous season and drop three episodes at once, allowing viewers to get a full taste of the tone of the new arc on the very first day.
Next: Raised by Wolves: How The Tropical Zone Setting Will Change Season 2
Source: HBO Max